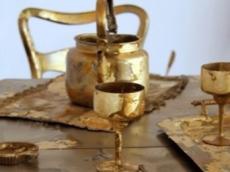 By AzerNews
The Gala State History and Ethnography Reserve near Baku will present the third international exhibition "From Waste to Art" from May 30 to June 3.
The traditional exhibition is presented jointly by the Tamiz Shahar Company, the Heydar Aliyev Foundation, and Icherisheher state historical and architectural reserve.
Art is the best way to attract people's attention to a particular issue. The main objective of the exhibition is to distract people from the habit of carelessly throwing every thing away.
Artists will create interesting and instructive works from simple and useless materials such as metal, paper, plastics, rubber products, and waste materials.
The participants, "re-renewing" unnecessary things in the original artworks, seek to inspire visitors.
Creating art works from disused or obsolete items is a protest against the established clichés and rules.
Along with Azerbaijani artists, the exhibition will bring together eminent representatives of this art movement from ??Turkey, the UK, the U.S.A., the Netherlands, Cuba, Columbia, Japan, Australia and the Czech Republic.
The exhibition will be held in the Gala reserve which has many art samples.
In the previous years, artists from ??France, Italy, Britain, America, Japan, Benin, Albania, Ukraine, Kazakhstan, Belarus, Israel, Uzbekistan, Tajikistan, Turkey and Russia, Germany, the USA, Estonia, Romania, Lithuania, Georgia, and Belarus demonstrated their handworks made from paper, newspapers, tires, car glasses, metal, and other waste materials.
Tamiz Shahar aims to improve the environmental situation of the capital city through the disposal of solid household waste in accordance with high standards.