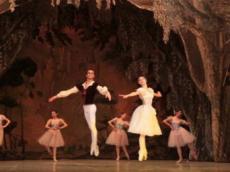 By AzerNews

The soloists of the Russian State Academic Bolshoi Theatre successfully performed in Baku on
May 17.
World-famous Adolphe Adam's "Giselle" was performed by Azerbaijan's Honored Artist and owner of the Gold Medal and First Prize at the International Ballet Competition Chinara Alizade and winner of the International Ballet Competition Karim Abdullin.
Azerbaijan's State Academic Opera and Ballet Theatre hosted the event.
The audience highly appreciated the level of professionalism of Alizade, who became the first Azerbaijani representative in the history of the Bolshoi Theatre. Furthermore, Abdullin's performance was warmly greeted by the audience, since he showed the most interesting and complex character.
State Academic Opera and Ballet Theatre supports close working contacts with Chinara Alizade and invites her for tours in Baku every year.
Her complex central roles in plays such as "Swan Lake," "Don Quixote", and "Giselle" have been appreciated by both ballet lovers and theater critics.
Giselle, or the Wilis, is a romantic ballet in two acts, written by Jules-Henri Vernoy de Saint-Georges and Théophile Gautier. They were inspired by a prose passage about the Wilis in Elementargeister by Heinrich Heine, and a poem by Victor Hugo about a girl who dies after an all-night ball called "Fantômes" in Les Orientales.
Adolphe Adam has composed the music and Jean Coralli and Jules Perrot have composed the choreography. Carlotta Grisi was the first to dance the role of Giselle.
The ballet is about a peasant girl named Giselle who dies of a broken heart after discovering that her lover is betrothed to another. The Wilis, a group of supernatural women who dance men to death, summon Giselle from her grave; they intend to kill her lover, but Giselle's love frees him from their grasp.