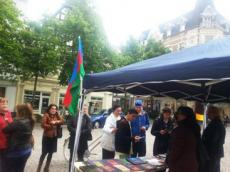 By AzerNews
The Bielefeld NRW-Germany-Azerbaijan society has set a special information stand on the main street of the German Herford city to familiarize its residents and guests with Azerbaijan, the State Committee for Diaspora Affairs said on May 10.
The committee said the stand shows photo albums, books and other artifacts reflecting the culture, art, history and geography of Azerbaijan.
Stand's materials are chosen to familiarize the community with the realities of genocide of Azerbaijanis committed by the Bolsheviks and Armenian troops in the early twentieth century, namely in 1905, 1906, 1907, 1918-1923, as well as with the Khojaly genocide committed by Armenians against Azerbaijanis and the atrocities of the Armenians during the Karabakh war.
Thus, the exhibition organizers managed to inform the world community about the Armenian occupation of Nagorno-Karabakh and the surrounding areas, which are ancestral lands of Azerbaijan.
The society intends to continue with the installation of the stands on May 10, 17, 24 and 31 in Bielefeld and other German cities.