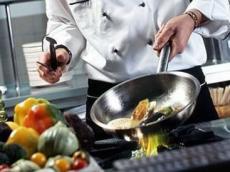 By AzerNews
Azerbaijan was represented at the "Asiada Kitchen 2017" workshop held in Turkmenistan's Ashgabat on April 8-10.
The news was announced by Azerbaijan's National Cooking Association.
The event, which turned out to be not only interesting and informative, but also very "tasty", has become a kind of international celebration of national cuisines.
Master chefs demonstrated proficiency in their technical skills, and came of with good ideas in the preparation of various kinds of meat and fish with vegetables and fruits, unusual sauces, salads, and confectionery.
To participate in the event, experienced chefs from more than 20 countries, including UK, Germany, China, Korea, Malaysia, India, Nepal, Japan, Pakistan, Azerbaijan, Georgia, Armenia, Belarus, Kazakhstan, Kyrgyzstan, Uzbekistan Tajikistan, and Ukraine came to Turkmenistan.
The Azerbaijani delegation at the event was led by Head of the National Cuisine Center and President of Azerbaijan's National Culinary Association Tahir Amiraslanov.
During the workshop, the participants listened to the presentations of various countries that acquainted the participants with the features of their national cuisines.
Speaking at the event, Amiraslanov noted that Azerbaijan pays special attention to other countries' national culinary heritage.
Azerbaijan also presented a short movie "National Cuisine" (Milli m?tb?x), made with the support of the country's Culture and Tourism Ministry.
Amiraslanov then distributed among the participants books titled "Azerbaijan's Cookery and Azerbaijan's Cuisine", "Cookery kleptomania", and "Karabakh's Cuisine" in English.
Following the event, all the participants were awarded certificates and souvenirs.
"Kitchen Asiada 2017" aims to improve the skills of Turkmen chefs who will serve the participants and guests of the 5th Asian Indoor Games, held in Ashgabat in 2017.
Out of 11 climatic zones known in the world, Azerbaijan's climate has nine. This contributes to the fertility of the land, which in turn results in the richness of the country's cuisine.
Azerbaijan is famous for the abundance of its vegetables and greens used seasonally in all the dishes. Fresh herbs, including mint, coriander, dill, basil, parsley, tarragon, leek, chive, thyme, marjoram, green onion, and watercress are very popular and often accompany main dishes.
The Caspian Sea is home to many edible species of fish, including the sturgeon, Caspian salmon, sardines, grey mullet, and others. Black caviar from the Caspian Sea is one of Azerbaijan's best-known delicacies well sought after in other parts of the world, including former Soviet countries.