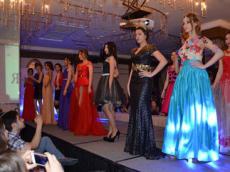 By AzerNews
Baku Fashion Festival was held in Baku on April 13.
Organized with the financial support of the Youth Foundation under the Azerbaijani President, the festival showcased the collections of 15 fashion designers (15-29 years old) in Excelsior Hotel.
Speaking at the opening ceremony, project manager Ismail Ismayilov expressed his appreciation for the support of the Youth Foundation, noting that the festival has contributed to the history of Azerbaijan's fashion.
Every designer presented at least three dresses, which were appreciated by the jury that included staff of the Fashion Design faculty of the Azerbaijani State Academy of Fine Arts Sevil Aliyeva, Azer Aliyev, Svetlana Jafarova, and Fidan Suleymanova, and model Kamala Guliyeva.
All the participants received certificates, and those who took the first three places were awarded diplomas.
Five people (designers and models among them) will be brought in to work at a film studio and fashion agencies on the basis of the agreement.
The project was aimed at developing fashion design in Azerbaijan, identifying and promoting young and talented artists and designers, and creating and strengthening links between them and well-known artists and professional designers.