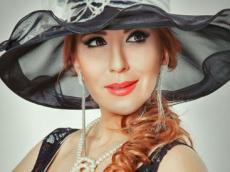 By AzerNews
Fidan Hajiyeva, Azerbaijan's world-famous opera singer will perform in the Heydar Aliyev Palace on April 19.
Accompanied by a symphony orchestra of the Azerbaijan State Academic Opera and Ballet Theatre, the Honored Artist of Azerbaijan will perform with a concert program titled "Sounds of Spring".
Hajiyeva said she will present a synthesis of opera and pop-jazz at the concert.
"The first part of the concert program will feature well-known opera works, and the second part will be only romances," she said. "I am sure that the music I play has a great number of fans. I promise them an interesting program."
Hajiyeva will perform not only solo, but also duets. Farid Aliyev, with whom she has played on the same stage of the Opera and Ballet Theatre for many years, will be on of her partners.
Her second duet partner will be a young, talented singer called Chingiz Mustafayev.
Each song will be accompanied by a video clip, filmed specifically for this concert, the singer said.
"My daughter will design one of the concert costumes, but I will not disclose all the details of the preparation which is in full swing," Hajiyeva added.
Tickets for the concert can be bought at the box offices of Baku at the cost of 15-80 manats.