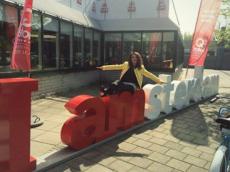 By AzerNews
Dilara Kazimova, Azerbaijan's entry at the Eurovision Song Contest is conquering Europe in her ten-day promotional tour.
Starting with a performance in Amsterdam together with other ESC entries, Dilara is going to sing her powerful song "Start a Fire" in five more countries - Lithuania, Hungary, Russia, Georgia, and Malta.
"The event couldn't be more fun! It was my pleasure to meet so many great people and fellow contestants, not to mention beautiful Amsterdam. The best possible start for my 'Start a Fire' promotional tour," Dilara said.
During the tour, Dilara will perform at local TV and radio stations and meet with the representatives of local media; she will also get acquainted with her fans and light up the stage with popular local musicians.
Moreover, Dilara will sing a duet with Vilija Mataciunaite, the representative of Lithuania at the ESC, at the popular Lithuanian TV show "Two Stars".
Dilara's strong and exciting voice will compete in the first semifinal of the ESC in Copenhagen, Denmark, on May 6, while leading bookmakers consider her among the top five contenders.
In "Start a Fire", the "confession of a strong and yet vulnerable woman", the gifted singer will mix modern ballad with a traditional soul in her performance.
Dilara has assured her fans, who have already received energy and emotions from the song, that her performance at the Eurovision stage will be even more surprising.
An established artist who is quite popular in Azerbaijan, Dilara is about to attract a wider European audience. Dilara's operatic training gives her impressive vocal diversity, and permits a repertoire that ranges from soul and opera to jazz and pop.
The singer has already participated twice in the national selection of Eurovision, reaching the final stage in 2008 and 2010. She is also the prizewinner of the "New Wave 2010"contest in Yurmala, Latvia.