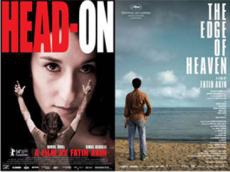 By AzerNews
Baku is going to witness the screenings of contemporary German movies, "Arts Council Azerbaijan" reported.
Organized at the initiative of the Goethe Institute, the screening of the movies from the institute's film archives will be lead by lectures of Azerbaijan's prominent cultural figures, followed by the discussion after.
The program will open with the films by German director of Turkish origin Fatih Akin. The screening of films will be held at "Art Ville" as part of the project "Alov", supported by "Arts Council Azerbaijan".
The first movie which is to be shown is Head-On (Gegen die Wand, 2004), awarded the Golden Bear for Best Film at the 54th Berlin International Film Festival. The film is dedicated to the life of the Turks who immigrated to Germany.
A lecture will be delivered by film critic and publicist Ulvi Mehti at 19:00 on April 9.
The screenings will continue with the German-Italian-Turkish film-drama "The Edge of Heaven" (Auf der anderen Seite, 2007), which was nominated for the "Palme d'Or "and won the prize for best screenplay at the Cannes Film Festival.
Composer and cultural expert Elmir Mirzoev will give a lecture at 19:00 on April 11.