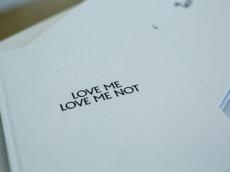 Love Me, Love Me Not: Contemporary Art from Azerbaijan and its Neighbors exhibition has been launched at the Heydar Aliyev Center.
The opening ceremony of the exhibition was attended by officials, cultural and art figures, as well as prominent artists.
Founder and Head of YARAT! Contemporary Art Space Aida Mahmudova welcomed the event participants, and provided an insight into the exhibition. She said that the exhibition featured works of well-known artists from different cultures.
Love Me, Love Me Not - an exhibition of contemporary art from Azerbaijan and its neighbours, featured recent work by 16 artists from Azerbaijan, Iran, Russia, and Georgia.
The exhibition was produced and supported by YARAT, a not-for-profit contemporary art organisation based in Baku, and curated by Dina Nasser-Khadivi.
The exhibition debuted at the 55th Venice Biennale in 2013, so its launch in Baku brought the exhibition back to the region that inspired it.
Artists featured include Faig Ahmed (Azerbaijan), Rashad Alakbarov (Azerbaijan), Afruz Amighi (Iran), Shoja Azari (Iran), Rashad Babayev (Azerbaijan), Mahmoud Bakhshi (Iran), Ali Banisadr (Iran), Ali Hasanov (Azerbaijan).
"Each piece in this exhibition has a role of giving the viewers at least one new perspective on the nations represented, with the mere intent to give a better understanding of the area that is being covered. Showcasing work by these artists in a single exhibition aims to, ultimately, question how we each perceive history and geography," explained curator Dina Nasser-Khadivi.
Faig Ahmed takes the motifs found in Azerbaijani carpets as a starting point for his work, reinterpreting these to underline the rapid shift Azerbaijan is experiencing towards modernity. His thread installation Untitled (2012) deconstructs the notions of craft inherent to the traditional process of weaving, extending the usual two-dimensional plane of the finished carpet across a three-dimensional space.
In his most ambitious project to date, Shoja Azari showed a specially commissioned film which recreates the Haft Paykar, the romantic epic of the 12th century, by Nizami of Ganja. Haft Paykar or Seven Beauties is an allegorical romance, which took self-knowledge as the essential path to human enlightenment as its central theme.
Ali Banisadr has produced his largest work to date for the exhibition, in the form of a triptych inspired by the pervasive symbolism of fire and light. These elements, prevalent in both Azerbaijan and Iran, relate to the origins of Zoroastrianism as well as the etymology of 'Azerbaijan,' which derives from the Persian name for 'Guardians of Fire'. Through effective use of colour and painterly control, Banisadr translates the imagery of his childhood, his extensive understanding of art history, and his sharp observations of everyday life onto canvas, capturing insightful details of humanity with movement, energy, and abstraction. Banisadr's works are housed in public collections worldwide including the Metropolitan Museum of Art in New York, Museum of Contemporary Art in Los Angeles, the Saatchi Gallery and the British Museum in London.
Ali Hasanov, from Azerbaijan, uses a contemporary appropriation of everyday materials. His work Masters (2012) features hundreds of "veniki" (brooms made of bundled twig and common in post-Soviet countries) which are bound together to form a sculptural whole.
Taus Makhacheva showed a film, presented at the Liverpool Biennale 2012 about an abandoned silk-road city Gamsutl (2012) including a young male protagonist who "dances" to enact the fragmented qualities of the city, now half forgotten.
Slavs & Tatars' installation entitled Molla Nasreddin The Antimodernist (2011) is a life-size sculpture as a playground "ride" for adults and children alike and refers to the popular Sufi philosopher of the 13th century. By creating works that can be directly engaged with by the public, the collective addresses notions such as generosity and participation through the disarming use of humour. Molla Nasreddin also refers to the legendary Azerbaijani satirical periodical of the early 20th century, which not only contributed to a crucial understanding of national identity, but offered a momentous example of the powers of the press. In their installation Love Me, Love Me Not, the collective pluck the petals off the past to reveal an impossibly thorny stem: entire metropolises are caught like children in the spiteful back and forth of a custody battle, representing the evolution of the region over time - a theme which is at the core of this exhibition.
By bringing artists from Azerbaijan and its surrounding region together in one exhibition, Love Me, Love Me Not created new perspectives on the contemporary art of Azerbaijan, as well as that of Iran, Russia and Georgia.
/AzerTAc/