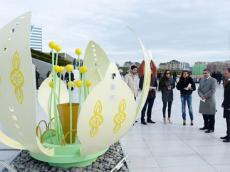 By AzerNews
The "Samani" International Art Competition was held in the Heydar Aliyev Center's park in Baku on March 18.
The project is held as part of the Heydar Aliyev Center projects in connection with the Novruz Bayram.
Samani, which is originally freshly sprouted wheat, is a symbol of life and fertility and represents the awakening of nature.
Diversely-decorated samanis were displayed in the Center's park.
The competition was organized with the support of the Heydar Aliyev Foundation, "YARAT!" Contemporary Art Space, IDEA (International Dialogue for Environmental Action) Public Association, "Baku" magazine, and the Museum of Modern Art.
Vice-president of the Heydar Aliyev Foundation Leyla Aliyeva, and Arzu Aliyeva viewed the works presented for the competition.
The "Samani" International Art Competition was aimed at eternalizing Azerbaijani national traditions and values, conveying them to the new generation and, at the same time, promoting Novruz more widely through the language of contemporary art.
By demonstrating samanis made in different designs by 32 painters and sculptures of different age groups and creative styles, the center aims to raise the festive mood in the city and wish abundance and prosperity for people.
Winners were chosen among 32 participants by vote. The winners of the colorful contest were Novruz Mammadov, Elvin Nabizadeh, and Lamiya Ahmad, who took the first, second, and third place respectively.
Samanis presented at the competition will be put on display in the Heydar Aliyev Center's park until June.