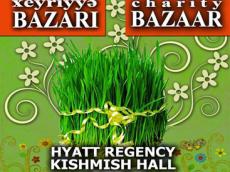 By AzerNews

The International Women's Club (IWC) will organize a charity Novruz Bazaar in Baku on March 16.
The event will be held in the Hyatt Regency's Kishmish Hall from 11:00 to 17:00.
IWC President Christie Streetman said all the money earned at the event will be used to construct a much needed playground facility at Salayan Boarding School, which will benefit a group of approximately 500 students who attend the school.
Streetman added that the organization is dedicated to help the underprivileged and needy children of the community by supporting foster homes and orphanages with much needed materials and moral support.
"Our donations allow them to undertake projects that improve the well being of the children in attendance and, in some cases, in residence," Streetman said.
"In order to maximize the amount we raise at our fundraising events, we seek to obtain as much sponsorship as possible. Our Azerbaijani IWC Members have organized a charity Novruz Bazaar for the second year in a row to celebrate this festive holiday season and earn the funds needed for another IWC-supported project."
Being a non-profit, non-political, and self-supporting social organization, the IWC brings together international and local women of all ages and cultures, including 200 members representing more than 32 different countries.
The organization's mission is to provide a means for building friendship and cultural understanding among different nationalities, and provide a source of support to people who have just arrived at Baku.
The IWC's primary charitable focus as an organization is on the underprivileged children of Baku and its surrounding areas. Through its fundraising efforts, the organization is able to provide support to various orphanages and boarding schools throughout this area, the UN Refugee Women and Youth Centre, the Reliable Future Youth Organization, and other worthy causes.
Its members have the opportunity to work either directly with the children or use their energies in other directions, whether it is Chairing or volunteering on a project committee, teaching English conversation classes, serving on the IWC Board of officers, or helping to distribute necessary items to various orphanages and foster homes in Baku.
The IWC organizes monthly Coffee Mingles, as well as Christmas Luncheon, Novruz Luncheon, and Annual General Meeting in May. The organization's most popular and renowned annual charity fundraising, Christmas Bazaar, is scheduled for November, and the second annual charity, Chili Cook-off, is planned for spring of the next year.