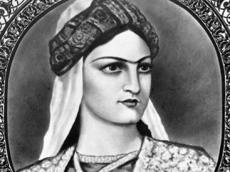 The UAE`s Dubai Al-Thakafiya monthly has published an article "Mehseti Ganjavi – first Azerbaijani poetess" by chairman of the "Azerbaijan" Society Samir Imanov. The article deals with the presidential order on the conduct of the 900th jubilee of the great Azerbaijani poetess Mehseti Ganjavi.
The article says that the poetess who lived in late 11th – early 12th century was an outstanding representative of the renaissance of the Azerbaijani culture.
"She used to be the first Azerbaijani poetess, first chess player, first renowned female musician and composer.
Ganjavi was born in Ganja in 1089 where she lived until her death. Her real name was Manije, but she used to write under the pen name Mehseti."
"She had brilliant education and travelled extensively throughout her life. She lived in the place of Sultan Sanjar and participated in the literary evenings there. Information about her life was derived from Mehseti and Amir Ahmed epos, which is kept in the form of manuscripts at the Fuzuli Institute of Manuscripts as well as in Istanbul and London."
"The 36th UNESCO General Assembly made a decision to conduct her 900th jubilee on a global scale.
On this occasion, musical and literary evenings, theater shows were organized in Azerbaijan, France, Austria, Italy and some other countries with the support of the President of the Heydar Aliyev Foundation, UNESCO and ISESCO goodwill ambassador Mehriban Aliyeva."
"President Ilham Aliyev inaugurated on January 21 the Mehseti Ganjavi Center whose construction was funded by the Heydar Aliyev Foundation."
The article says Baku has become the center for cross-cultural dialogue thanks to the initiative and organizational skills of First Lady of Azerbaijan Mehriban Aliyeva.
"The Heydar Aliyev Foundation pays a special attention to orphanages, schools, hospitals, medical centers. It helped thousands of children with thalassemia, down`s syndrome, heart, blood diseases in Azerbaijan and other countries.
The author says the Foundation provides assistance for restoration of mosques in Azerbaijan. "Its president Mehriban Aliyeva works hard to popularize Azerbaijani music, national folklore."

/AzerTAc/