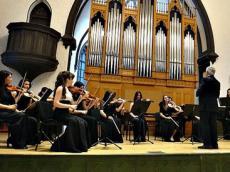 By AzerNews
"Mirvariler" (Pearls) chamber orchestra held a concert in the Baku-based Church of the Savior on February 22.
The concert was co-organized by the Rapid Solutions and the HR Company (HRC) and promoted by Day.Az in the media.
Consisting of talented young girls, the orchestra performed famous classical music and works of Azerbaijani composers under artistic director and chief conductor Professor Tofig Aslanov.
"The chamber orchestra, which will debut today in the church, is called Mirvariler because it consists of only female representatives who are truly lovely; each one is more beautiful than the other," Aslanov said addressing the audience.
The group performed works such as "Ave Maria" by Franz Schubert, "Cengi" by Akshin Alizadeh, "Rondo" by Henry Purcell, "Oblivion" by Astor Piazzolla, "Nizami" symphony and "Baghdad Bazaar" from the ballet "1001 nights" by Fikrat Amirov, as well as "Bersez" and "Dance of the girls" from the ballet "The Path of Thunder" by Gara Garayev.
Tar player Samira Jalilova, the winner of the republican contest, performed "Heyraty", a kind of rhythmic mugham. Jeyla Seyidova, another artist and the winner of international music competitions performed "A la Mugham" by Asaf Zeynalli on violin.
Fidan Hajiyeva, Azerbaijan's world-famous opera singer and Honored Artist of Azerbaijan also performed at the concert. She sang three songs, including "Sevgili Canan" by Uzeyir Hajibeyli, "Habanera" from the opera "Carmen" by Georges Bizet, and "I Can Feel the Rhythm" by George Gershwin.
The singer's performance was greeted with great applause.
After the concert, Jeyla Seyidova told Day.Az about the formation of the group and its future plans.
"The fact that the band consists of only women slightly hindered to work well together. But, as you can see, we've made it," she said.
"Mirvariler" has existed for only three months, but we already have specific plans for the tours. Even a new repertoire is being prepared for this occasion. Soon our orchestra is going to visit Turkey. As for other routes... I do not want to talk about them in advance; it is a bad omen, you know."