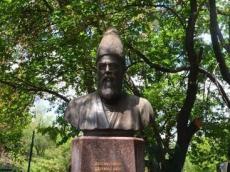 By AzerNews
The 220th birthday anniversary of the prominent poet and enlightener Mirza Shafi Vazeh will be celebrated in Azerbaijan.
President Ilham Aliyev signed a decree to instruct the Ministry of Culture and Tourism, to develop and implement an action plan in cooperation with the National Academy of Sciences and the Executive Power of Ganja.
Poetry of Mirza Shafi Vazeh became famous beyond Azerbaijan in 19th century. Vazeh continued a tradition of oriental poetry chanting high humanity and spiritual beauty in his works. His poems small in content contain many aphorisms, in which the poet presented his life philosophy.
His heritage occupies an important place in the development of literary and cultural relations between Azerbaijan and Europe.
Vazeh's poems were translated into almost all European languages in the middle of the nineteen century. Thus, he became more popular in Europe than in his homeland.
Mirza Shafi was born in Ganja, home for many Azerbaijani talented poets, and studied literature there. He was fascinated with Sufism. Mirza Shafi gave calligraphy lessons in Ganja. One of his students was Mirza Fatali Akhundov, another great mind writer, farther of Azerbaijani theater.
Akhundov later wrote that Mirza Shafi opened his eyes, filled with disgust to the clergy, and introduced him all the issues of true education. In Ganja Mirza Shafi wrote poetry - ghazal and rubais - full of love.
Afterwards, he moved to Tiflis and started teaching. Here he was acquainted with many Azerbaijani, Russian and Georgian writers and educators. Tiflis changed future of Mirza Shahi's heritage, when he met Friedrich von Bodenstedt, German orientalist, who translated Vazeh's poetry and presented in Europe.
He was also Vazeh's student, studying languages and writing Vazeh's poetry in the most fruitful period of the poet's life. On the other hand, Mirza Shafi himself became acquainted with European literature through his European students.
When returning home Bodenstedt had taken his master's recordings of the songs and a book of poems entitled "The Key of Wisdom", which contained the whole world outlook of Vazeh. German scientist published a translated version of Vazeh's poetry, which became an extraordinary success.
"In his book "A thousand and one day in the East", most part of which is devoted to Mirza Shafi and translation of his poems," Bodenstedt recalls, that after the lessons an assembly "divan" had started, where Mirza Shafi was singing and explained to his song. The book was reprinted several times and was translated into many European languages?.?
The unprecedented success infatuate Bodenstedt, who after Vazeh's death, declared himself an author of all the poems he published before, and Europe believed him.
However, original poetry of Mirza Shafi in Azerbaijani and Persian languages was found later, proving the authorship of wise poet Vazeh.
The most part of his poetry is satirical, freedom-loving songs. Educational character of his creativity is primarily associated with the philosophy of the poet, who rejected the religious fanaticism, Oriental despotism, old customs and prejudices, as well as all other obstacles to personal freedom, addressing his poetry to the lower classes, and intellectuals.