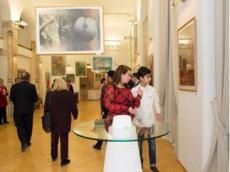 By AzerNews
Azerbaijan's cultural center in Vienna is hosting an exhibition of artistic works by Austrian graphic artist Josef Diethor.
The exhibition is held to pay a tribute to ate Erich Feigl, who was a big friend of Azerbaijan. It has already attracted the representatives of the diplomatic corps in Vienna, state and government officials, Austrian art lovers and graphic printing specialists.
Opening the ceremony, the head of the Azerbaijani Culture Center Leyla Gasimova said Diethor is widely known as an artist not only in Austria and in Europe, but also in Azerbaijan.
"Josef Diethor became interested in Azerbaijan through his friend Erich Feigl and has repeatedly visited the country. He has created several works about Azerbaijan. The works were displayed for the first time at the State Drawing Academy in Baku in 2008," said Gasimova.
Leading expert at Cultural Policy Department at the Austrian Ministry of Foreign Affairs Barbara Lee-Stork stressed the importance of the exhibition.
Diethor praised the assistance of the Azerbaijani Culture Center in organizing the event. He said the exhibition can be considered as a follow-up to his exhibition in Baku in 2008.
During the opening ceremony, Mushfig Guliyev gave a concert. He is an Azerbaijani student at Joseph Haydn Conservatory. He performed works by Azerbaijani composers in the concert.