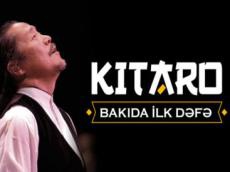 The first solo concert of Kitaro, a worldwide famous Japanese recording artist, composer, musician, arranger, and the winner of a Grammy and a Golden Globe Award, is to take place at the Heydar Aliyev Center on March 7.
The living legend will present his most recent Final Call Album live, accompanied by an orchestra, the center told Trend.
A noteworthy detail is that the Album was nominated for the 56th Grammy Award in 2014.
An idol of millions with over 30 years of career in music, Kitaro will perform a fabulous repertoire at the Heydar Aliyev Center with a 36 musician orchestra.
Kitaro, born as Masanori Takahashi, is a pioneer in New Age genre, styled Kitaro in Japanese. The genre is known for blending folk music with electronic instruments. With no formal education in music, he succeeded in mastering peculiarities of musical art on his own. Along with keyboards, Kitaro plays guitar, flute, drums, as well as a number of other instruments. He is also recognized as a film director and photographer. Kitaro was a light designer in a number of his concerts, as well as arranger of a number of his albums.
Golden Globe award winner for the music of Sky and Earth movie (1993), Kitaro was nominated to Grammy on a number of occasions and got this award in 2001 for the Thinking of You Album.

/Trend/