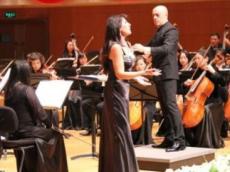 By AzerNews
Azerbaijani People's Artist Prof. Yalchin Adigezalov performed with great success in Beijing's famous concert hall.
Led by Adigezalov, China National Symphony Orchestra performed music by legendary composers such as Uzeyir Hajibeyli, Gara Garayev, Fikret Amirov, Niyazi, and Sultan Hajibekov, concert organizers told Trend Agency.
The event brought together prominent public figures, representatives of culture and art, and diplomatic missions.
Opening the event, Azerbaijan's Ambassador to China Latif Gandilov emphasized the importance of the project for the development of cultural dialogue between the two countries.
The evening was opened with the overture to the opera "Koroglu" by Uzeyir Hajibeyli, in which Chinese musicians used their national instruments, erhu and pipa, instead of Azerbaijani musical instruments. Then, drawing a long applause from the audience, a suite from the "Seven Beauties" ballet by Gara Garayev and"Nasimi" and "Caravan" by Hajibekov were performed. Soloist of the Azerbaijan State Musical Theatre, honored actress Nargiz Kerimova brilliantly performed "Arzu" romance by Niyazi and arias from operas by Hajibayli and Amirov.
After the event Yalcin Adigezalov was awarded a certificate, which elected him as a principal guest conductor of the China National Symphony Orchestra.
Adigezalov is a representative of the third generation of Azerbaijan's famous musical dynasty. He has directed symphony orchestras at opera and ballet houses in Turkey and Russia, and participated in Salzburg Festival in Austria.
He was the music director and conductor of Alexander Borodin's Prince Igor staged by Dmitry Bertman2003, a performance that opened the International Opera Festival in Aspendos, Turkey.
Maestro Adigezalov has performed with prominent soloists, including Mstislav Rostropovich, Nikolay Petrov, Sergey Stadler, Ivan Monigetti, Boris Berezovsky, Dmitry Kogan, and many others. He has also released eleven records in the USA, Turkey, and Britain.
Along with the Azerbaijan State Symphony Orchestra and the Bolshoi Symphony Orchestra, Adigezalov has recorded eight CDs in USA, Russia, Britain, and Turkey.