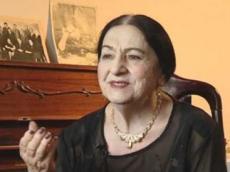 By AzerNews
"Galin gayasi" (Bride's Rock) opera, created by Shafiga Akhundova, a legend of the Azerbaijani music history, will be performed at Azerbaijan State Academic Opera and Ballet Theater on January 29.
The event will be held to commemorate the 90th anniversary of Shafiga Akhundova, the first professional female author of an opera in the East.
The main parties in the opera led by conductor Eyyub Guliyev, will be performed by Azerbaijan's folk artists Mansum Ibragimov, Nazaket Teymurova, Shahlar Guliyev, Ali Asgar, honored artists Gulustan Aliyev, Sahib Abbasov, Nizami Bagirov and others.
Akhundova, born in 1924 in Sheki, devoted almost 70 years of her life to the culture and art of her home country. Shafiga khanum received her primary education at Baku Music School named after Asaf Zeynally, where she had been taught by Uzeyir Hajibeyov for eight years. Then, in 1956, she continued her education at Azerbaijan State Conservatory named after Uzeyir Hajibeyov, from which she graduated from the class of prominent composer Boris Zeydman.
Remarkably, Shafiga Akhundova was a worthy successor of great composer Uzeyir Hajibeyov.
In 1972, Akhundova composed her first opera, "Galin gayasi" (Bride's Rock), and became the first female composer in the East. This opera's combination of the classical music with the oral traditional classical mugham confirms the preservation of the composing style of Uzeyir Hajibeyov and shows her unique talent and musical skill.
Akhundova is also the author of the wonderful songs "Leyla", "Happy Land", the operetta "Our home, our secret" (1965), pieces for a string quartet, the dramatic plays "Aydin", "Farewell to India!", "What do you live for?", etc. and music for children's plays such as "A tale of a clown", "Birthday of a rabbit", etc. She is the author of more than 600 works and composed music for more than 30 spectacles staged in state theaters.
Her compositions were performed by the outstanding Azerbaijani singers of the time, who perceived her music as a gift and fell in love with them once and for all. Her works were also very famous in foreign countries, such as Turkey, Central Asian states, and were lovingly performed abroad.