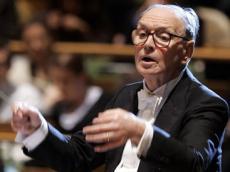 By AzerNews
World-renowned musician Ennio Morricone, who is set to give a concert at Heydar Aliyev Palace on January 25, shared his expectations on the Baku concert.
The talented composer, conductor and pianist said: " I' am happy that I have the honor to perform in the magnificent city of Baku. I will be glad if you enjoy the concert and I hope to feel your warmth during it. Thank you all."
During the concert, the audience can enjoy listening the best music pieces by Maestro from their favorite movies.
Magnificent musician Morricone will conduct the Azerbaijan State Symphony Orchestra named after Uzeyir Hajibeyli. The orchestra will be accompanied by the State Choir Capella. More than 200 musicians are involved in the grandiose concert.
The concert is organized by the "Buta" Center of Arts with the support of the Azerbaijan's Ministry of Culture and Tourism Ministry and the Italian Embassy in Azerbaijan.
A long artistic career of Maestro includes a wide range of composition genres, from absolute music, which he has always produced, to applied music, working as orchestrator as well as conductor in the recording field, and then as a composer for theatre, radio and cinema.
He started his protrude film music composer career in 1961 and became worldwide famous with Sergio Leone's westerns "A Fistful Of Dollars" (1964), "For A Few Dollars More" (1965), "The Good, The Bad And The Ugly" (1966), "Once Upon A Time In The West" (1968) and "A Fistful Of Dynamite" (1971).
Ennio Morricone has conducted many orchestras worldwide, including the Orchestra of the Santa Cecilia Academy during many symphonic seasons.