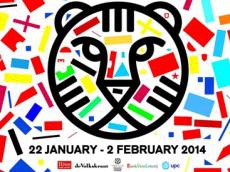 The 43rd International Film Festival Rotterdam (IFFR), organized by Stichting Filmfestival Rotterdam, is taking place from January 22 to February 2, 2014 in the Netherlands.
The International Film Festival Rotterdam offers a high quality line-up of carefully selected fiction and documentary feature films, short films, creative documentaries, experimental films, and innovative visual productions for digital media.
The IFFR is one of the largest audience and industry driven film festivals in the world. During ten festival days, hundreds of filmmakers and other artists present their work to a large audience (2013: 280,000 admissions) and 2,500 film professionals. The festival`s Official Selection includes some 220 feature films and 320 short films out of 60 countries. It also welcomes fifty-seven young film producers.
The festival`s Tiger Awards Competitions, Bright Future and Spectrum sections contain recent work only, among which many world premieres. In its Signals section, IFFR presents retrospectives and themed programmes. IFFR actively supports new and adventurous filmmaking talent through its co-production market CineMart, its Hubert Bals Fund, Rotterdam Lab and Industry Office activities. Most films within the IFFR selection are screened in their original language version with English subtitles.
IFFR is approximately comparable in size to other major European festivals such as Cannes, Venice, Berlin, and Locarno. The IFFR also hosts CineMart, for film producers to seek funding. The International Film Festival Rotterdam aims to offer a quality selection of worldwide independent, innovative and experimental cinema and visual arts. Devoted to offering a platform to and actively supporting independent filmmaking from around the globe, the International Film Festival Rotterdam is the essential hub for discovering film talent and for catching the early buzz on many world and international premieres.
The European premiere of QISSA by Indian director Anup Singh has officially opened the festival.

/AzerTAc/