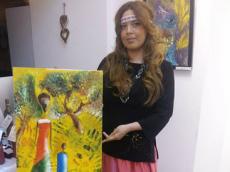 By AzerNews
An exhibition titled "Unreality can be a real", showcasing Azerbaijani artist Ulviyya Musayeva's artworks, was held in Baku on January 17-18.
The exhibition was held in Natavan gallery.
Opening the exhibition, curator Sayara Nematova explained about Ulviyya Musaeva's creativity, noting that today's works of the author differ from the previous ones, because now Ulviyya uses an innovative and unique 3D technique, adding different elements, made ??of clay.
Moreover, beautiful painted wine bottles, placed throughout the gallery, including window sills, wall niche and a large table also attracted great interest of the audience.
The artist herself talked about the specifics of her work, adding that the painting process is directly related to inspiration.
"I paint my pictures on canvas using fingers, and I use oil paints, because the oil dries long and gives free rein to imagination," Musayeva said. "I would really like to raise this kind of art to the national level, so I paint a few bottles in the style of national color, using oriental patterns and ornaments."
The artist also held a master class, drawing a picture during the first day of the exhibition, what ineffably surprised the audience.
Looking at her works, it is easy to understand that the artist loves all mystical, mysterious, inaccessible and mysterious. Indeed, there can be found images of ancient civilizations, space girls, and a lot of flowers. Moreover, Musaeva uses a butterfly, symbolizing the soul, immortality, rebirth and the ability to transform in her works, combining it with different bright colors.