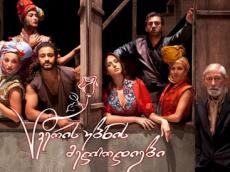 A musical Melodies of Vera District with Georgian movie and theater actors starring was presented at the Heydar Aliyev Center on January 17,AzerTag state news agency reported.
The musical featured Georgian famous movie actor and singer Vakhtang Kikabidze, famous artists Sofiya Nijaradze, Nodiko Tatishvili, Stefan Ketato, as well as soloists of the Paliashvili Georgian State Theater of Opera and Ballet and Sukhishvili Georgian Folk Dance Ensemble.
The musical comedy Melodies of Vera District made in 1973 by Shengelayani rose to prominence in Georgia and abroad. It was staged and produced by French director and choreographer Redha Benteifour.
The musical tells the story of Pavle, a poor cart-driver, and his two girls, Maro and Tamro. The girls have a dream to take classes at a ballet school, but Pavle cannot afford such a luxury. Vardo, a laundress, decides to help the little girls. For that purpose, she steals a cattle, firewood and a mink coat from a rich merchant's house.
She warms up Pavle's house with the stolen firewood and pays tutorship for the girls' ballet classes. Vardo gets caught for larceny. All the laundresses in the neighborhood go on strike in Vardo's support. Scared chief of local police sets Vardo free and enlists the girls in the ballet school.

/AzerNews/