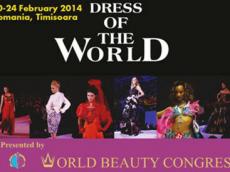 By AzerNews
Azerbaijani fashion designers will participate in the "Dress of the World" international fashion competition.
"The contest will be held in Timisoara, Romania, from February 20-24," co-president of World Beauty Congress, and head of Azerbaijan Fashion Association, Zamir Huseynov said.
The competition is organized by the World Beauty Congress, which is also the organizer of other famous world competitions such as Beauty of the World, and International Beauty & Model Festival.
Azerbaijan will be represented by the national team of 5 designers, who won the "Dress of the Year in Azerbaijan" national contest in different nominations. These are twice winner of the contest Laman Muhammedzade, Ayten Mekhtiyeva, Aygun Talybova, and Nermin Hamidli.
The fifth member of the team has not been defined yet.
Dress of the World is a one-dress contest where the prize goes to just one dress, rather than a collection of dresses. This allows contestants to invest all of their time, talent and financial capabilities in one or more dresses and create a masterpiece.
"The event also gives the talented fashion designers who cannot afford to create a large collection, an opportunity to become famous by creating a few dresses. Each country can send a maximum of five contestants, each of whom may submit up to three women's dresses. A designer can take several prizes for one dress presented in different nominations," Huseynov said.
Designers from Serbia, Croatia, South Korea, the United States, Venezuela, Russia, Kazakhstan, Moldova, Montenegro, Belgium, Albania, Thailand, Macedonia, Romania, Bosnia and Herzegovina, Ukraine, and Nigeria will also take part in the competition.