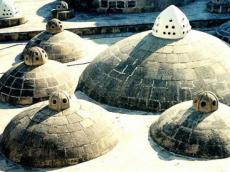 By AzerNews
Where you can warm up on cold days, when you get soaked to the skin, or to relieve tension and cool your body in stuffy and sticky summer days? Of course, in hamam!
Imagine for a moment that you are in Baku of the last century. At least you will be quite surprised not only by completely different appearance of the city, but also by a variety of baths - Hamams, which was a favorite place of Baku residents. In hamam one could sit back, relax, chat with friends or find new friends, gossip about city's news, and even find a bride for his son or a groom for daughter.
Visiting hamam was more than just taking a bath, it became a tradition or ritual, firmly entrenched in the minds of Baku residents.
When it was a special day, men walked to the bath. Since evening people prepared products and money for hamam, where they could use services of barber or massage therapist.
In cloakroom men often played such board games as backgammon and cards. There also was a place to take rest on khalcha (carpet) or bed, to have a cup of tea, and even to have dinner food, brought from home. Here men discussed the events in a city, or village, often they prepared for a wedding right here.
Women with little children, taking some food and clothes, which needed to be washed, went to the bath at the designated women day.
Usually, music, sounding from the central square, or from minaret of the mosque gave to understand that today is a women day. Moreover, red cloth with painted pictures of the scenes of famous plays "Layla and Majnun" or "Asli and Kerim" was hung on front of the baths.
Mothers with daughters of marriageable age, as well as mothers who wanted to choose a bride for their sons also visited hamams. One could hear all the news of the city, and gossips' fans were indispensable visitors there. Public life in the baths was in full swing, almost the entire population of the city kept pace to have a bath in the weekends, and on Mondays, they proceeded to a new week in a clean and neat appearance.
Personnel of the hamams consisted of a few people. A major figure here was the man, who poured hot water. He sat on a stone bench at the opening leading into the room where there was a storage with hot water - khazna and via the scoop on the long wooden handle he took the water and then poured to the jars in front of him.
A boiler man - "kulhanchi" - controlled trouble-free operation of baths, regulating the water flow.
Hamams played special role in the architectural appearance of Baku. They were built mainly in a dome form that organically harmonized with the local landscape and helped the proper distribution of the condensed steam. Steam turning into water did not flow down from the ceiling, but from the walls without causing discomfort to visitors.
Small openings arranged at the base of the dome were used for illumination in hamams, but light fell only in the center of the room. To make visitors move, bathhouse workers set oil or kerosene lamps at the corners of the room.
Competition among the owners of hamams made them use the latest architectural details and decor to attract visitors, for what waiting room was decorated with colored tiles and mirrors ordered from abroad.
Until the second half of the 19th century the heating system of Baku's baths worked using wood, which was burned in primitive heating boilers. Hot water was rising through the pipes by rotating the wheels, either manually or using a horse, and then were given to the stone bath, where people ladled it with special scoop. Later, water heating and heating systems in hamams were combined and became to be heated with fuel oil. Ceramic or metal pipes of the water supply system in Sheki, Shusha and Ganja or wells located in the courtyard of baths provided hamams with water.
Speaking about heating systems of the East baths, it is worth mentioning an interesting device of bath in Iranian Isfahan city, which was heated from a single candle. Scientists did not believe that such a huge cauldron, providing a whole bath can be heated by a single candle. They dismantled it neatly to understand the device and maybe find some additional sources of heat, but found nothing. Then they gathered it also neatly, but the boiler has stopped working, and this miracle was lost.
It is hard to find a literary work, written in any of the oriental languages, whether tale, story, poem or novel, in which hamam would not have been mentioned at least once.
Some episodes of legendary Azerbaijani film "O olmasin, bu olsun" (If not this, then that) were filmed in the bath of Mikayil Aga, situated in Icherisheher (Old City of Baku). Moreover, famous Azerbaijani writer Maksud Ibragimbekov wrote the whole story, telling in details about bath traditions in Baku.
Despite the fact that today not so many people go to the hamams, preferring the comfort of their home bathrooms or popular Finnish saunas, traditional hamams continue to operate in Baku in all its glory.