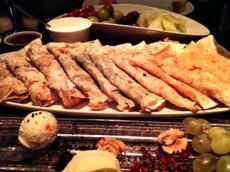 Founder of the British web resource "baldhiker.com", popular journalist Paul Steele has published two articles on the culture and cuisine of Azerbaijan.
The first article headlined "Azerbaijan – Opera and Ballet Theatre Baku" reads: "Well, I think we all know now that I do love travelling to Azerbaijan. Not many places I have been to more than once with so much in the world to do and see. But, I fell in love with the country and the people on my first brief visit here so third time it was. Still lots to see and do. Of course, before heading into a new district of the country there is always time for a day or two in Baku. So much culture, so much heritage. New things to see around every corner. It is not too far from the shopping district that this remarkable looking building sits, with historic intrigue, tempting you to find out more. The Baku Opera and Ballet Theatre…
As I have told before, Azerbaijan was the first majority Muslim country to have opera and theatre and this building is a remarkable example of their love of opera combined with early 20th century architecture and quite possibly a very daring bet.
As I research the same story gets told the same as that of my great colleague in Azerbaijan. In 1910 the great Russian soprano Antonina Nezhdanova visited to perform in Baku. At that time she was performing in casinos and clubs there and naturally refused a return visit. One man, a Russian oil magnate, Daniel Mailov of the Mailov brothers asked her if she would return in exactly 12 months if a proper opera house was erected in her honour…….
So he set about what at that time was a considerable task in those days. Such a grand building? Inside and out? In a year? The local Azeri industrialist Zeynalabdin Taghiyev thought no chance, and bet that he would pay for it if it could be done…… it was built and ready in 10 months apparently and he paid for it all, a whopping quarter of a million rubles… yes in 1911.
Sure enough, Antonina came back in 2011 to become the first opera singer to perform in the building. Used by varying organizations and has been undergoing restoration over the years.
Baku truly is a city of treasures…"
The second article titled "The food and cuisine of Azerbaijan" reads: "As far as travelling with food in mind, Azerbaijan cuisine is up there in the top of my list of favorites. Each visit I always look forward to some traditional favorites as well as seeking out some delicious new dish I haven't tried yet. With Azerbaijan having 9 of the 11 world climate zones you can imagine this has led to variety, color and flavor.
A country, where the greens are a very flavorsome joy to eat on their own, or the meat dishes that get my mouth watering every time. Some Azeri dishes have spread around the world and some have taken influence from around the world. This is where East meets West after all.
In the main image up top you will see a very fine typical platter, wrapped in the thin wafer bread on the right is a favourite.. lamb kebab. Lamb featured a lot during my visits so far... helps that it is my choice of meat. Another local delight is the Dolma. Love it… minced lamb with herbs wrapped in vine leaves, commonly served with natural yoghurt…. it just melts in your mouth.
Even before you get to the main dishes the colorful variety is brought to the table. Plates and bowls of green leaves and herbs (Goy) that I will say are absolutely the opposite of the flavorless salad starters that we get used to at home. Breads (Chorek) pieces seemingly never ending.
But what for desert I hear you say, well you need to have your sweet tooth about you! Remember in my post on Sheki last year I was introduced to a proper Pakhlava. A local cake of nits and dough absolutely absorbed in sweet honey. Well this time I was in another district, the Quba region. They had their own very orange colored take on the cake.
One thing I must say at this point is that if you are a big coffee drinker like me then don`t expect a coffee available in Azerbaijan within your vicinity whilst out and about. Black Tea is the order of the day and the national drink. Taken with every meal or drank with guests as a welcome. Everywhere you go, a lovely glass of tea is on offer, tea is delightful.
Olives are always on the table, local pomegranate juice or seeds color the tasty array in front of you. Every meal is a feast but a feast that is never too filling or fatty. I really could go on and on into special cooked breads, more fruits and more meat dishes like chicken. I even had the chance to try some bear meat in the mountains. Variety, taste, color, culture and heritage. Azeri cuisine is something that all must try."
/AzerTAc/