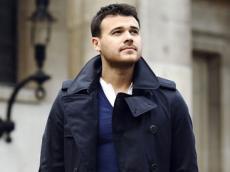 By AzerNews
A concert of famous Azerbaijani singer and composer EMIN received a full house in Buta Palace, Baku, on December 21.
EMIN presented a miscellaneous repertoire and live performances of his compositions, and established a sincere relationship with the audience.
Before the concert, EMIN had an autograph session at the shopping center "Park Bulvar", which brought together hundreds of young fans to get up close and personal with their favorite artist and even take pictures with him.
An exclusive music program with new songs and favorite hits made the night at the Buta Palace special for guests. Sparkling musical groups and famous DJs such as Dj Magnum, Shock, and TIM offered their best hits in the evening that was filled with a pre-holiday festive air.
The orchestra, superb dances, and light and laser shows made the whole event even more special, and the grateful audience greeted each performance with a great tornado of cheers.
The program included many new songs from the recently released Russian album "Na Krau" (At the brink). During the concert, EMIN also announced the winner of his Instagram contest.
The new album, which was released 10 days ago, has already took second place for downloads after Beyonce on iTunes.
The new album was recorded in the United States in collaboration with famous composer and producer Ali Dee and his team "Dee Town Entertainment".
The track list of the singer 's seventh album includes 12 songs: "Amor", "At the brink", "Stars over Moscow", "The dream was not about us", "Angel Demon", "Do not look for me", "I live the best", "You are not alone", "Heart beats", "In September", "Fallen petals of roses", and a cover version of the song "Blue eternity" from the repertoire of magnificent Muslim Magomayev.
The lyrics and music of most of the songs were written by EMIN himself with the participation of his foreign colleagues Brian Spitzer, Jordan Jager, Alana de Fonseca, Mark Reed, Patrick Maskall, and "Chinkong Production".
Emin Agalarov is a popular Azerbaijani singer and outstanding songwriter in both Azerbaijan and Russia and a rising star in the UK.
Emin, who was born in Baku, Azerbaijan, was three when his family moved to Moscow. As a teenager, Emin studied in Europe, which opened up his mind to the world. A few years later, he completed his education in the U.S. where his lifelong interest in music began to move to the forefront.
His first studio album, Still, was released in 2006, selling 70,000 copies in Russia in the first six months, and an additional 30,000 in CIS countries.
Emin released an album a year for the next three years -- "Incredible" (2007), "Obsession" (2008) and "Devotion" (2009). Each was supported by live performances in Moscow and Baku.
After relocation to London in 2010, Emin released two international albums, "Wonder" (2011) and "After the Thunder" (2012).
EMIN was recently nominated at the prestigious World Music Awards, which is an annual event held under the High Patronage of Albert II, Prince of Monaco. EMIN is nominated for awards in three categories: "Best Performer", "The world's best live performance", and "Best Artist".