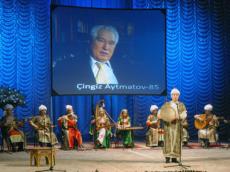 Baku has hosted a commemorative event to mark the 85th anniversary of famous Kyrgyz writer Chingiz Aitmatov at the Azerbaijan State Academic National Drama Theatre.
The event was organized by the Azerbaijani Ministry of Culture and Tourism.
The event participants viewed the book exhibition on Chingiz Aitmatov.
Kyrgyz folk songs have been performed at the event.
Delivering a speech at the event Azerbaijani minister of culture and tourism Abulfas Garayev highlighted the life and literal activities of the Kyrgyz writer.
Chyngyz Aitmatov was a bilingual writer (Kyrgyz & Russian) from Kyrgyzstan. Aitmatov was born on December 12th, 1928 in Talas, Kyrgyzstan. He lost his father at the age of 10, a victim of Stalin's purges. His father was executed as an "enemy of the people" in 1938. As the eldest son of the family, Aitmatov took over the responsibility of helping his mother to bring up his younger brother and two sisters. During World War II, Aitmatov was a hard-working teenager helping his family to get by in the small village of Sheker. He graduated as a veterinary surgeon, studying first in Dshambul and later at the Agricultural High School in Frunze (now Bishkek – the capital of Kyrgyzstan). Aitmatov published his first short story in 1952. His works have been translated into more than 150 languages worldwide.
State Secretary of Kyrgyz Ministry of Culture Akimbek Tekeshov expressed his gratitude for organization of such events commemorating the great Kyrgyz writer.
Azerbaijani People`s writer Anar and famous Kyrgyz film director Bolotbek Shamshiyev shared their impressions on Chingiz Aitmatov.
At the end of the event, the writer`s son Askar Aitmatov expressed his gratitude to Azerbaijani President Ilham Aliyev and the Ministry of Culture and Tourism for the organization of the commemorative event.

/AzerTAc/