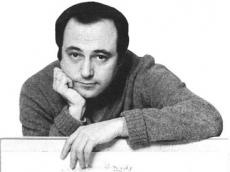 World-famous composer Faraj Karayev`s "Journey to love" monoopera for soprano and chamber orchestra will be demonstrated at the Azerbaijan State Theatre of Young Spectators on December 16.
Journey to Love, a monodrama for soprano, magnetic tape and chamber orchestra (1978), will be directed by Gela Kandelaki (Georgia).
Conductor is Vladimir Runchak (Ukraine), scenography by Elen Murjikneli (Georgia) and soloist is Farida Mammadova (Azerbaijan). The performance will also include ensemble of soloists of the Azerbaijan State Philharmonic.
Faraj Karaev is one of the leading composers of the post Soviet era. The chronology of his creative works resembles more the typical avant-guard cardiogram than a classical gradual growth. His works cover both neoclassic and serial music, pointillism and sonore, collages and modality, neoromanticism and mugam, postmodernism and jazz, European instrumental theatre and a theatre of folk instruments, conceptualism and electronic music. He easily operates within any musical sign, style, technology or image, he does not feel any composer`s complexes even when he finds himself in strange musical territory. In this way his music produces very contradicting and even mutually exclusive impressions.
The composer`s many works were performed in the festivals and concerts through out former USSR, Europe, USA, South America, and Japan, evoking the interest of both sophisticated music-lovers and amateurs alike.
Faraj Karayev`s compositions bear the stamp of talent and sincerity and express his own, highly original, approach to the motley world of modern artistic culture.

/AzerTAc/