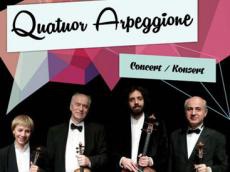 By AzerNews
Baku Music Academy will host a concert of French "Arpeggione" quartet, a press service of the French Institute in Azerbaijan reported.
Works of legendary composers as Haydn, Beethoven and Debussy will be performed at the concert, which will be held on December 16 at 7 PM.
The winner of prestigious International competition of quartets in Évian, "Arpeggione" was formed in 1988. The quartet performs various repertoire from Haydn to modern composers without fear to be involved in original projects that require participants' acting skills.
"Arpeggione" played on the best Parisian stages, including Theatre of the Champs Elysée, Châtelet, the Opera of the Bastille, Gavo's Halls, the Museum D'Orsay and Karuzel du Louvr.