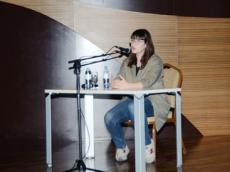 Yarat Contemporary Art Organization has presented artist talks with a contemporary artist Taus Makhacheva. A lecture entitled "Gazing at the highlanders, gazing from the highlands", focused on the problem of identity formation in her practice.
Taus Makhacheva's practice is closely connected with the choices of a "coordinate grid" – moral, ethical orientations cue in evolving new life conditions. The artist acutely marks troubling signs of change: a chaotic stream of transformations, traditional world apprehension and fragments and disjointed residues of "catchy" ideals of a civilized world. In an attempt to structure this flow she asks: "How is identity within the new social community formed?" The works by Taus Makhacheva attempt to answer those questions raised and the possibility that points towards the need to move from unconscious mythmaking that unites into one narrative traditional cultural system of contemporary symbols and signs, into reflexive, attentive treatment of the past and tradition, national memory, and history.
Taus Makhacheva (b. 1983, Moscow) – winner of "Innovation" state prize in contemporary art ("New Generation" category, project "The Fast and The Furious", 2012) and nominee of the Kandinsky prize ("Media Project of the Year" category, 2011). Holds a BA in Fine Art from Goldsmiths College (London) and an MA from Royal College of Art (London).
Selected exhibitions: Aluminium (2009, Fourth BakuInternational Biennale of Contemporary Art,); History of Russian Video Art, Volume 3 (2010, Moscow Museum of Modern Art); Practice for Everyday Life (2011, Calvert 22, London); Affirmative Action (Mimesis)(2011, Impronte Contemporary Art, Milan); Greater Caucasus (2011, PERMM Museum of Contemporary Art); Rewriting Worlds (2011, Fourth Moscow Biennale of Contemporary Art, Main Project, ArtPlay ?entre); 7th Liverpool Biennial: City States-Makhachkala, Topography of Masculinity (2012, LJMU Copperas Hill Building, Liverpool); Re: emerge - Towards a New Cultural Cartography, Yuko Hasegawa, curator (2013, 11Sharjah Biennial, Sharjah, UAE); Love me, Love me not(2013, 55 Venice Biennial, collateral event, Venice).
/AzerTAg/