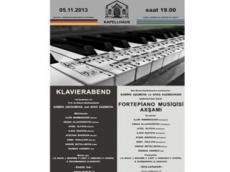 By AzerNews
An evening of piano music will be held at the Azerbaijani-German cultural center, Kapellhaus in Baku on November 5.
The concert will be attended by students, and professors of Baku Music Academy Samira Ashumova and Afaq Kazimova.
Illar Mammaedzade, Kanan Allahverdiev, Aysel Aliyeva, Ilaha Rzaeva, Ayshan Bekirova, Syama Khalilova, Nargis Mutallibova, Rahman Kerimov will perform at the concert the works of Gara Garayev, Sergei Rachmaninoff, Claude Debussy, Johannes Brahms, and other famous composers.