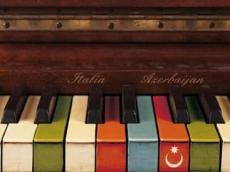 The Azerbaijan Visual Concert "The Flower of Fire", comprising the Modern Azerbaijani Mugham Trio, coupled with a synthesis of classical music, has been held in Prague, the Czech Republic.
The concert was organized by AZEDER, the Azerbaijan Student Network (ASN) and the State Oil Company of Azerbaijan (SOCAR).
Based on the composition of Gunay Mirzoyeva and Francesco Magiani, the Mugham trio coming from Azerbaijan and the Prague Modern Orchestra accompanied the event and made this special evening a musical- visual tribute to "The Land of Fire"- Azerbaijan, capturing the spirit of its ancient history, traditions, beauties of the country, as well as its music and human community.
Along with the ambassador of Peru, Mrs. Marita Landaveri Portura and the consular of the embassy of Azerbaijan Alimirzamin Askerov, many other members of the diplomatic corps, Czechs and Azerbaijanis residing in Czech Republic, as well as members of different nations visited this event.
The concert was broadcasted by the media of Czech Republic, Azerbaijan and Turkey.
Commencing the ceremony with his opening speech, the representative of the ASN in Czech Republic, Sabir Mammadov talked to the event participants about the development of intercultural relations and the importance of such projects for the contribution to and deepening of relations among our nations. Then the guests were welcomed to taste Azerbaijani national meals and sweets under the Azerbaijani music.
The concert was a great opportunity to show the Europeans Azerbaijan being a young and democratic country while comprehending a rich and ancient culture. "The Flower of Fire" was concluded with a very positive impression by event participants.