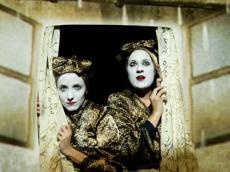 Under the "Theaters` cooperation" project between Azerbaijani Ministry of Culture and Tourism and British Council, 1927 – the London-based theatre group will perform in Azerbaijan`s capital.
With three performances scheduled for October 11 and October 12, the play "The Animals and Children Took to the Streets" is set to light up the stage at the Russian Dramatic Theatre after Samad Vurghun. Seamlessly integrating live music, performance, storytelling, film and animation, the play will appeal to both mature and young audiences alike.
Performances are in English and translation in Azerbaijani will be provided.
The show won the Best Entertainment Performance award in 2010 and toured the most prestigious international festivals, this year coming to the Azerbaijani capital.
This work is a synthesis of animation, theater and is partly a musical, which creates a fairy tale for children and adults. Most of the play`s characters were created by animators.
Credible facts are tightly woven together with a "horror story", black humor, cabaret songs, etc.
Actors also enter into a dialogue with cartoon characters.
The play received glowing reference from critics of the Scotsman and Time Out publications.
1927 is an award-winning theater company which mixes live music, storytelling and performance with animation, thus creating an extraordinary and unique theatrical experience.


/AzerTAg/