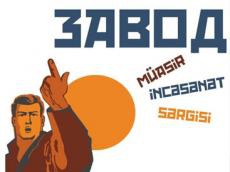 By AzerNews
YARAT Contemporary Art Space invites art lovers to the opening of "Zavod" contemporary arts exhibition with participation of 26 young artists, at Baku Air Condition Plant building, 6.00 p.m. on October 5.
The exhibition, held within ARTIM project framework, will take place at Alesker Gaibov street 10, near Bakmil metro station, until November 15.
"Zavod" ("The plant") is a catchy name for a new project that represents an attempt to exploit non-traditional and alternative spaces by YARAT Contemporary Art Organization.
This project featuring works by 26 emerging Azerbaijani artists will take place at the long abandoned air conditioner factory. YARAT, a non-commercial organization, has already used experimental and alternative spaces for its cultural activities, including a dockyard, a platform in front of the central bus station and a building under construction.
The air conditioners that were produced at this once famous factory back in the Soviet times helped to cool and freshen up the air virtually in every apartment in Azerbaijan and the neighboring countries.
Unfortunately, the dismantlement of Soviet Union put the production to a halt. However, in the frame of the project with the artists' enthusiasm this empty production facility, workshops and plants will be reanimated. They will be given new colors and dynamics as the memory of the glorious past is revived.
This project was conceived and produced by YARAT Contemporary Art Organization, is sponsored by Bank Technique and curated by an artist Faig Ahmed, who previously represented his country at the International Biennale of Contemporary Art in Venice and Islamic Art Festival in Sharjah.
YARAT aims to provide educational initiatives including lectures, seminars and master classes on a variety of related topics of contemporary art.