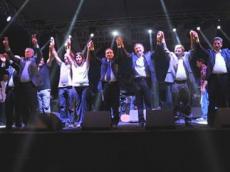 An event titled "An evening of Azerbaijan" was held in Turkish capital Ankara as part of the 10th Festival "International Days of Anadolu" on September 15. The event was organized by Etimesgut municipality of Ankara and Azerbaijani Embassy in Turkey, the embassy said.
Diaspora representatives, Azerbaijani students, embassy officers and Ankara residents participated in the event.
Azerbaijani dance group of Nakhchivan State Philharmonic who performed at the event was cheered.
Azerbaijani ambassador to Ankara Faig Bagirov said the event was of great significance as it brings Azerbaijani and Turkish peoples even closer.
The visitors of the event also had a chance to get familiar with the "Area of Azerbaijan" created as part of the event. They were presented the magazine "Heritage", as well as books "Ilham Aliyev" and "Heydar Aliyev", published in the Turkish language.
/AzerTAg/