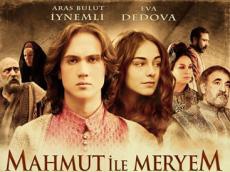 By AzerNews
Baku will host a premiere of the film "Mahmud and Maryam" based on the novel by popular Azerbaijani writer Elchin Efendiyev at the Nizami cinema, the website of the Ministry of Culture and Tourism said on Sept.6.
The premiere, a co-production of Azerbaijan and Turkey, will be held on Sept. 26.
The movie was filmed at the Azerbaijani film studio Salname and the Turkish 24 Kare. The film was directed by Mehmet Ada Oztekin, and the producer is Sevda Kaygisiz. The composer is Azerbaijani honorary art worker Aygun Samadzade.
The lead roles of Mahmud and Maryam are played by Aras Bulut Iynemli and Eva Dedova.
The movie also stars Azerbaijani People's Artist Fahraddin Manafov, Azerbaijani Honorary Artist Shamil Suleymanov, Malahat Abbasova, Mehmet Cevik and many other famous actors.
The day after the premiere, in which a Turkish creative team will also participate, the audience will be able to see the film at the Nizami cinema in downtown Baku.
Though Mahmud and Maryam was the first work of Elchin Efendiyev in the novel genre, it gained wide acclaim. The novel was published in the late 1980s. "Mahmud and Maryam" was written based on the content of the "Asli and Karam" epic.
The story is about the impossible love of King Ziyad Khan's son, a Muslim, and the daughter of a Christian priest. The film features strong inter-religious clashes, anger and love, high emotions, etc. The feelings of helplessness and hopelessness are stressed at the same time.
The "Mahmud and Maryam" novel, translated into many languages of the world and included in the golden fund of modern prose, was perhaps the first most read and cherished creation in Turkey at the end of the 20th century. It was first published in 1992 and by three more publishing houses later.