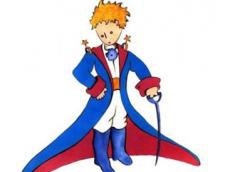 By AzerNews
The State Pantomime Theatre in Azerbaijan's capital Baku will stage "The Little Prince" spectacle based on a creation by well-known French writer Antoine de Saint-Exupery on September 29, according to the Department of Culture and Tourism of Baku.
The director of the play is People's Artist Bakhtiyar Khanizade, the artist is Sanubar Samadova and music was composed by Elman Rafiyev.
Solmaz Badalova, Sabina Hajiyeva, Nurlan Rustamov and others will play in the spectacle.
The Little Prince novella, first published in 1943, is the most famous work of the French aristocrat, writer, poet and pioneering aviator Exupery (1900-1944).
It is a poetic tale self-illustrated in watercolours in which a pilot stranded in the desert meets a young prince fallen to Earth from a tiny asteroid. The story is philosophical and includes societal criticism, highlighting the strangeness of the adult world. The Little Prince makes several profound and idealistic observations about life and human nature.
The magical musical fable begins as the pilot makes a forced landing on the barren Sahara Desert. He is befriended by a "little" prince from the planet Asteroid B-612. In the days that follow, the pilot learns of the small boy's history and planet-hopping journeys in which he met a king, a businessman, an historian, and a general. It isn't until he comes to Earth that the Little Prince learns the secrets of the importance of life from a Fox, a Snake, and the pilot.
The novella is both the most read and most translated book in the French language, and was voted the best book of the 20th century in France. Translated into more than 250 languages and dialects, as well as Braille, and selling over a million copies per year with sales totalling more than 140 million copies worldwide, it has become one of the best-selling books ever published.