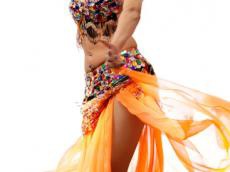 By AzerNews
The European cup and championship on one of the most captivating styles of dance, belly dance,will be presented in Azerbaijan by the International Dance Organization, the Modern and Social Dance Association of Azerbaijan and the Azerbaijan Youth Union, according to the Association.
The three-day event will be held September 6-8, bringing together visitors, judges and participants from Europe, as well as observers from the International Dance Organization. Dancers from across Europe will show their dancing skills in nine nominations of belly dance and in several age categories.
The panel of referees will include judges from Azerbaijan, Italy, Spain, Russia, Belarus, Ukraine, and Turkey.
The dance extravaganza will be full of bright colors, as well as beaded costumes, beautiful Oriental tunes and breathtaking dance.
The festival will take place based on a specially built platform. Another platform will be built for the international "Silk Way" championship, which will be held on the same day and at the same place.
The Silk Way 2013 is expected to draw participants and referees of countries from all over Eurasia.
If this first international championship, organized by the Modern and Social Dance Association, is successful, it will be accredited by the International Dance Organization and become an annual event.
"It is very important for the development of dance in Azerbaijan," the Association head Aziz Azizov said. "It is a huge exchange of experiences and culture, it's a healthy competition. We are pleased to have the honor to hold the Championship and the European Cup, as well as an opportunity to show our domestic product, the international championship "Silk Way'."
The "Silk Way" championship will include such nominations as hip-hop, folk, belly dance and a dance show.
Those who wish to participate in the tournaments should call 012 511 2611 and 050 626 66 26 phone numbers.