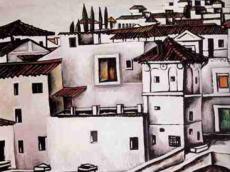 Artworks by Azerbaijani painters Tahir Salahov, Togrul Narimanbayov, Mirnadir Zeynalov, Javad Mirjavadov, Ashraf Murad, Faig Ahmad, Altay Sadigzade, Aydan Salahova, Mahmud Rustamov and Rasim Babayev are demonstrating at the exhibition called "At the Crossroads: Contemporary Art from the Caucasus and Central Asia" at Sotheby`s New Bond Street, which opened on Monday.
First ever selling exhibition of Contemporary Art from Central Asia and the Caucasus draws together 50 artworks from the mountains of the Caucasus to Kazakhstan`s steppe and the Chinese borders.
It features a range of nonconformist, socialist realist, and contemporary artworks from Azerbaijan, Georgia, Kazakhstan, Kyrgyzstan, Tajikistan, and Uzbekistan.
Joanna Vickery, the head of Sotheby`s Russian Department, says the art on display varies widely in style but is unified by the region`s slow emergence from a conformist Soviet school.
Azerbaijani painter Tahir Salahov`s 1987 portrait of composer Dmitry Shostakovich is considered one of the show`s highlights.
The portrait, showing Shostakovich sitting in profile against a severe, snowy background, is also the exhibition`s top-priced item.
Vickery describes Salakhov`s work as "very collectible" and "incredibly difficult to find."
"This piece is an amazing portrait of Shostakovich," she says. "The artist painted him a few times. It`s just a fantastic work and would appeal to our very traditional Russian collectors. And it`s priced very much taking that marketplace into account."
Many of the works in "At the Crossroads" are being exhibited in the West for the first time, meaning good exposure -- and potential profits -- for the artists involved. All of the pieces are on sale, with list prices starting at $3,000 and rising to Salakhov`s $500,000 portrait.

/AzerTAc/