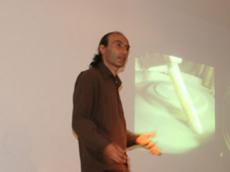 YARAT! Contemporary Art Space and the Ministry of Youth and Sport of Azerbaijan Republic with technical support of "Yug" Theatre invite you to attend a workshop by Mamuka Japharidze, a painter and curator.
From 2011, a Georgian artist Mamuka Japharidze starts to establish a new garden near Tbilisi which eventually becomes a field class for students at Informal Masters Program at CCA Tbilisi. Students, more on platform of local community, do many different activities here.
The initial idea was to open up environmental problems for students and share with them ethics of ecology. Main focus is to bring art mind into the farming practice and new ideas and inspiration for creativity.
In the Field Academy (this is how students and faculty call their garden) take place informal meetings with artists and professionals with diverse backgrounds. Every field seminar includes sessions of healthy, but also experimental cooking.
Students use land for art events and workshops, invite artists to do projects here. They also listen to music and do mushroom study walks in the forest. The course also includes planting trees, building vegetable gardens sheds and field kitchens.
The course should be regarded as an attempt to export creativity and artistic thinking from the gallery context and introduce it in field of organic farming.
Georgian artist, Mamuka Japharidze was born in Tbilisi in 1962 and graduated from the State Academy of Arts in Tbilisi in 1980. He currently lives and works in Tbilisi and also spends some time in the UK. He works across a broad range of art media, using sound and language to construct work which he presents as actions and performances as well in exhibition/installation form. He has a varied and successful career as an artist, exhibits nationally and internationally, has attended many international artists workshops and residencies, makes performances and ´actions´, co-ordinates arts projects and exchanges and curates exhibitions. He was selected to represent Georgia at the 48th Venice Biennale.
Since 1987, Mamuka has been working in an international arena; working with language; using language frame as the basic construction and conceptual base of a work. He often used bi-lingual sound-play to find new trans-cultural subjective meanings. The poetic language sound-play can be manifested as sound vibration, concrete text and also the actual object/event itself.
The artist investigates the way that objects exist in a separate time/world beyond human´s utilitarian interpretation of time/object. The state of potential before objects/things are manifested is for him a real metaphysical state of existence. The idea of the object exists in ancient mythological dialogue and drama, which for him is still present. When the utilitarian conception of an object is cleared away, the deep metaphysical meaning is revealed. The artist's target is the actual moment of event and not towards building a product.
The medium is changeable and includes: media production, e.g. posters, cards (as part of an art work/event); happenings/public events; collecting and archiving images over long periods of time; video projection; photography; printmaking; texts; drawing; sound works.
The workshop will last from 08.03.2013 to 28.03.2013
Interested people should fill in the application from available on our web-site and send it along with their CVs to the following email address: ulvia.a@yarat.az. Please, mark "Workshop by Mamuka Japharidze" in the subject line.
Applications are accepted till March 3rd.

/AzerTAc/