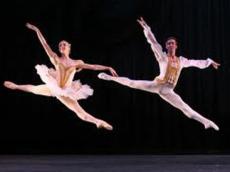 On February 24, the Azerbaijani State Academic Opera and Ballet Theatre will host a premiere of the ballet "Paquita" by Ludwig Minkus, an Austrian composer of ballet music, a violin virtuoso and teacher.
The ballet to be presented within choreography of the most influential ballet master Marius Petipa, will be staged under management of Tamilla Shiraliyeva, the People`s Artist of Azerbaijan. Musical director and conductor of the play will be People`s Artist, Professor Javanshir Jafarov.
The organizers said the play would be a beautiful gift for the Baku audience.
The play will involve honored artists Rimma Isgandarova, Yelena Skomoroshenko, as well as young soloists of the theatre Nigar Ibrahimova and others.
The plot of performance narrates about the heroine, the young Gypsy girl, Paquita. Unbeknownst to Paquita, she is really of noble birth, having been abducted by Gypsies when she was an infant. She saves the life of a young French officer, Lucien d`Hervilly, who is the target of a Spanish governor who desires to have him killed by Iñigo, a gypsy chief. By way of a medallion she discovers that she is of noble birth, being in fact the cousin of Lucien. As such, she and the Officer are able to wed.
Paquita, a ballet-pantomime in 2 acts and 3 scenes, with scenario by Paul Foucher, choreography by Joseph Mazilier (1801-68) and Pierre Frédéric Malavergne, and music by Edouard-Ernest-Marie Deldevez, was first performed in its original version at the Paris Opéra (the Académie Royale de Musique) on 1 April 1846.
/AzerTAc/