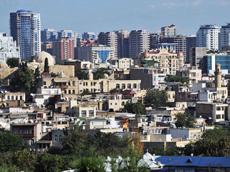 Baku and its surroundings are known with rich historical monuments not only in Azerbaijan but around the world. Azerbaijan has numerous historical and architectural monuments dating to various historical epochs.
More than 6,500 new historical monuments were revealed in Azerbaijan, Deputy Culture and Tourism Minister Adalat Veliyev said. About 7,000 historic sites were included in the official list, as a result the number of such sites registered in the country increased to 10,000. There can be found monuments of the world, national and local significance among them.
"Every community and society has a very precious heritage which has to be and can be transferred to the next generation and it is the responsibility of the civil society to transfer that heritage to the next generation" deputy minister added.
He said work is underway to develop a long-term national program covering 2012-2020 in relation to these historical sites. The draft program is ready, and it will be submitted to the government after agreement with the relevant ministries. Now the studies are directed to determine the source of annual funding for the program.
The Government has reviewed the lists of state-protected monuments adopted in 1968, 1981 and 1988. Historical monument which plays the role of a bridge between Georgia and Azerbaijan sometimes known as Sinig Korpu (the Broken Bridge) will also be reconstructed.
Restoration and museum-conservation works were started on the Maiden Tower within the special arrangements for storage of the historical-architectural monuments located in the territory, in compliance with the "Detailed Mster Plan for Conservation of the Historical Center of Baku city" adopted by the Cabinet of Ministers of the Republic of Azerbaijan.
In 2007 a momentous event in the social and cultural life of Azerbaijan happened. The Gobustan archaeological complex, the ancient rock art of which had been admitted as masterpieces of world petroglyphic art due to its high artistry, was included in the World Heritage List. Official admission of the world importance of this unique complex of historical monuments on Azerbaijan`s territory by such an authoritative international organization is basically the result of the realization of the State program for restoring the national, spiritual and cultural values of the Azerbaijani people. State politics directed towards the protection, exhaustive examination and promotion of the ancient monuments stimulates the awareness of the greatness of the cultural heritage of the Azerbaijani people and its place in universal history.

/AzerTAc
/