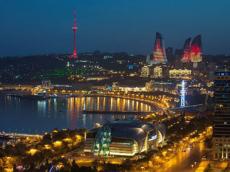 The 4th International Children's Mugham Festival ended in Baku with the final stage - awards ceremony at the Baku Mugam Center.
As earlier reported, the selection tours of the Fourth International Children Mugham Festival organizing by KAINAT Youth Centre with the support of Ministry of Youth and Sport started since May 2012.
Azerbaijan was presented at festival with six young talents.
The wonderful scene of the International Mugham Center became for children who are taking part in a final stage of festival, a test platform. Sixteen young performers have presented to experts the Azerbaijani mugham, the Turkish song, Uzbek-Turkmen shashmak, Kyrgyz-Tajik songs. They were accompanied by the Araz orchestra of national instruments of the Azerbaijan TV and Radio.
The winners of IV International Mugham Festival were announced at the awards ceremony at the grandiose Baku International Mugham Centre.