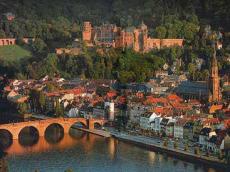 Officials of Azerbaijan`s Ministry of Culture and Tourism Tehran Valiyev, Aslan Jafarov, Representative of the Heydar Aliyev Foundation Elshad Bayramov, Director of National Library of Azerbaijan Karim Tahirov will participate in the 63rd international book fair in Frankfurt, Germany.
Azerbaijan`s 40sq m-pavilion will feature presentation through special advertising printed materials on the country`s history, as well as culture, realities on Karabakh, and tourism potential.
As the world`s largest, even legendary book fair, Frankfurt is always exciting, innovative and very colourful. This year, once again, more than 7,000 international exhibitors, diverse new customer groups and more than 3,200 events will attend the fair. Among its many activities, the Frankfurt Academy is hosting four conferences to help international publishers find their way in the digital world, as well as the two-day event.
The Frankfurt Book Fair is the world`s largest trade fair for books, based on the number of publishing companies represented, as well as the number of visitors.
Representatives from book publishing and multimedia companies from all over the world come to the Frankfurt Book Fair in order to negotiate international publishing rights and licensing fees.
/
AzerTAc
/