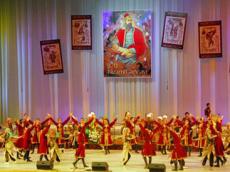 As reported earlier, a range of events were held in the country to mark the 870th anniversary of great Azerbaijani poet Nizami Ganjavi.
To this end, the final event dedicated to the great thinker continued yesterday at the Heydar Aliyev Palace.
Minister of Culture and Tourism Abulfas Garayev spoke of the Presidential Decree on 23 December 2011 "On celebrating the 870th anniversary of great Azerbaijani poet and thinker Nizami Ganjavi". He said that the mighty pen of Nizami Ganjavi wrote the golden pages of the Oriental and then Azerbaijani Renaissance. Contributing the treasure titled "Khamsa" to the literature of humanity he opened quite a new panorama of national and universal values.
According to the minister, since the beginning of the year, a range of events have been held in different regions and towns of our country in accordance with the relevant Presidential Decree. The peak of these events was held two days ago in Ganja city – in the motherland of the great poet with participation of many guests. At the initiative of the Azerbaijani First Lady, President of the Heydar Aliyev Foundation Mehriban Aliyeva, this year in the Italian city of Rome, the monument of the great poet was erected for the first time in Europe. Also, on 30 September, a complete "Khamsa" was presented in Ganja.
Deputy Prime Minister Elchin Afandiyev gave detailed information about the creativity and heritage of Nizami Ganjavi.
Addressing the anniversary event, Director of famous Egyptian Library of Alexandria, Ismayil Sarageldin, permanent representative of Kazakhstan to UNESCO, Oljas Suleymanov, People's Writer Anar, Ganja city executive head Elmar Valiyev, Professor of the Italian Oriental Institute, turkologist Mikeli Bernandini spoke about the significance of the poet's heritage.
/
AzerTAc
/