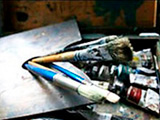 An exhibition of paintings by artist of Ingushetia Ilyas Gaidov will open here. The exhibition will feature more than 40 paintings.
Being one of the eminent fine art masters in Ingushetia, Ilyas Gaidov is in constant search for synthesis of East and West traditions, of national originality.
Preserving philosophical world view basis and poetry of Eastern classical art along with outlook of contemporary man distinguishes his paintings.
/
AzerTAc
/