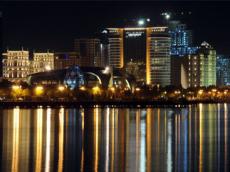 Georgian TV channel PIK as part of the programme "With Ivanna Melay" has recently broadcasted a report titled "Baku on the border of the centuries".
This is not a first Melay's reporting from Azerbaijan – earlier she has made a programme dedicated to the international song contest Eurovision-2012, which was held in Azerbaijan's capital.
"With Ivanna Melay" is one of the high rated programs in the Georgian TV channel PIK. "Baku - on the border of the centuries" episode featured the old part of Baku - Icherisheher, Baku nights, cultural life of the Azeri capital, interviews with outstanding artists and musicians of Azerbaijan. Ivanna Melay stresses in her report that Baku is a combination of the ancient East and ultramodern West.
/
AzerTAc
/