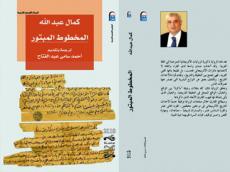 Prominent Azerbaijani scientist and writer Kamal Abdulla`s novel "Unfinished manuscript" has been printed in the Arabic language in Egyptian capital Cairo. The book has been published by the National Center for Translation under the Ministry of Culture of Egypt as part of the world literature series.
Doctor Ahmed Sami Elaydi, teacher of Ain Shams University and scientist on Azerbaijani Study has translated the book into the Arabic language. He also author of the book`s foreword.
Ahmed Sami Elaydi touched upon the importance of the popularization of the book in the Arab world and its role in the Azerbaijani literature stressing the including of the novel into the list of nominees for the Nobel Prize in the book.
The book also gives information on life and creative activity on Kamal Abdulla and his place in the modern literate of Azerbaijan.
The novel is one of the first fictions translated into the Arabic language in the Arab world.
According to Professor Khairi Doma, chair of the National Center for Translation, the presentation of the book would be held very soon in Cairo and Kamal Abdulla invited to the ceremony.
Kamal Abdulla is an Azerbaijani writer and poet, literary critic, scholar, Ph.D. (1985), professor, Honored figure of culture of Azerbaijan, corresponding member of ANAS, member of the Azerbaijani Union of Writers since 1983.
/
AzerTAc
/