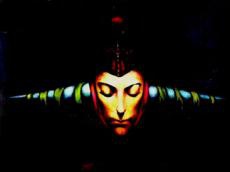 Moscow will host the VI International Festival of Art "Tradition and Contemporaneity" at the Central Exhibition Hall ("Manej") on June 4-8, 2012. Rashad Mehdiyev, a popular and talented artist of Azerbaijan, a member of the Union of Artists of Azerbaijan, a teacher of the State Academy of Arts, Ph.D in Arts will represent our country at this worthy event with the support of the Ministry of Culture and Tourism of the Republic of Azerbaijan .
Rashad Mehdiyev was born in the family of Rafig Mehdiyev, People's Artist of Azerbaijan. He has graduated from Baku Art School named after A.Azimzade, State Culture and Art University of Azerbaijan, and Memar Sinan University in Turkey. Personal exhibitions were launched in Saint-Petersburg in 1955, and in Baku in 1991, 1994, 1996 and 2000. In 2001 he represented Azerbaijan at TURKSOY International Contest-exhibition and was awarded the first prize.
Rashad Mehdiyev launched his personal exhibitions in Vienna, Venetia twice in 2002, and 3 times in 2006, and represented Azerbaijani art successfully at the Palace of Nations of UN European Headquarters. The last personal exhibition of the artist was launched in Baku in May 2012. His works reflect the traditions of national and European arts. Personal peculiarity, creative style, rich and bright color observed in the Azerbaijani miniatures prove once more the main character of Rashad Mehdiyev's creative work.
Many artists from 40 countries and ten thousands audience will take part at this festival. It should be noted that this festival was firstly held in 2007 and more than 130 000 audience visited it.
The Azerbaijani embassy in the Russian Federation also supports the participation of the Azerbaijani representative at the VI Moscow International Festival of Art "Tradition and Contemporaneity."
/Today.Az/