The Parliament of Azerbaijan completed discussion on 2010 state budget blueprint.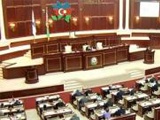 After the discussions, Speaker Ogtay Asadov noted that the government had two weeks to consider the proposals offered in the parliament during the 3-day discussions.
He added that the document would be submitted to the parliament for ratification.
After the discussions, Finance Minister Samir Sharifov delivered a speech. The minister took stance on the proposals made.
According to him, there is 10.2 per cent of shadow economy in Azerbaijan and the State Statistics Committee takes it into consideration while accounting the GDP.
Speaking about the oil price in the state budget, Sharifov stated that the price was comprised of 45 dollars.
He said oil price forecast might have been set at $55-60 and this could have brought in extra AZN 300-400 million.
The Minister of Finance spoke about the proposals offered by a group of parliamentarians on increase of the funds allocated from the state budget to the Public Television and Radio Broadcasting Company (ITV).
 He said AZN 8 million considered for ITV in the state budget and its financing from state budget would have been completed in January, 2010 according to the law.
"However, this term has been prolonged. There are other TV channels in Azerbaijan. In fact, ITV must be financed through subscribers".
Touching upon the funds allocated for the film making in Azerbaijan, the minister noted AZN 6 million had been allocated for this purpose.
The budget of the State Social Protection Fund and other documents in the budget package will be discussed at the parliament on Nov. 13.
/
APA
/